"Cooling Summer 2014"— Service Activity in Kazakhstan
2014-10-22
As more and more Yutong buses are Sold to Kazakhstan, to ensure the smooth operation of these buses, upgrade the clients' satisfaction, and provide trusted service, Yutong decided to offer high-quality experience for major passenger transport clients in Kazakhstan, and also to improve Yutong's product image and reputation in this country, thus promoting sales with good service.
Repecting the buses of major passenger transport clients in the market, especially those buses in the warranty term, in May 2014, Yutong's service personnel for Kazakhstan, i.e., Hui Chao, Lian Yanjun and Zhao Xiang, as well as local persons, i.e., Pulati and Hassanbuick, and the service supplier's repair personnel carried out "Cooling Summer" service activity in Alma-Ata and Hasklin respectively.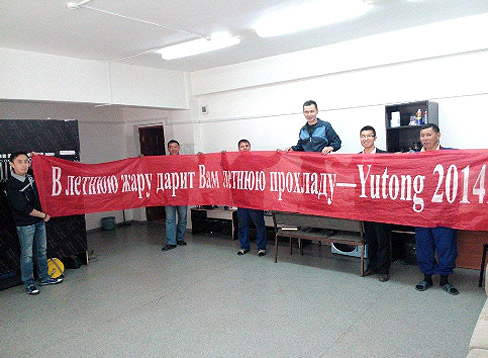 Group photo of service team
In this activity, by visiting various clients of passenger transportation, Yutong learned the demands of its clients and solved the bus problems timely which received many good comments from clients. During this activity, engine systems of clients' buses were tested and problems were solved, and engine working conditions were tested with the computer free of charge. The engine maintenance requirements were disseminated. For the key clients, Yutong made appointments in advance and conducted onsite service for them.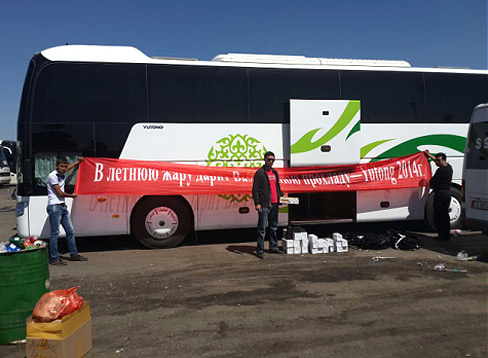 After this activity, the clients spoke highly of Yutong's service and free delivery of parts, and they said that they have never encountered any company who sends parts to them free of charge. They were grateful for Yutong, and hope that such service activity will be carried out each year.