The Prime Minister of Kazakhstan Witnessed Opening of the CKD Plant, Yutong Technology Exports Set a Cooperation Example
2021-09-13
Recently, the CKD plant (QazTehna plant) prepared jointly by Yutong Bus and its partners in Kazakhstan held the opening ceremony. The Prime Minister of Kazakhstan, Аскар Узакпаевич Мамин, together with the government delegation, attended and witnessed the ceremony, also sent best wishes to the new plant operation and mutual cooperation. The president of Yutong Bus, Tang Yuxiang has been invited to attend the ceremony via video connection. This marks a new stage of mutual benefits and win-win for Yutong's intensive and meticulous efforts in Kazakhstan market.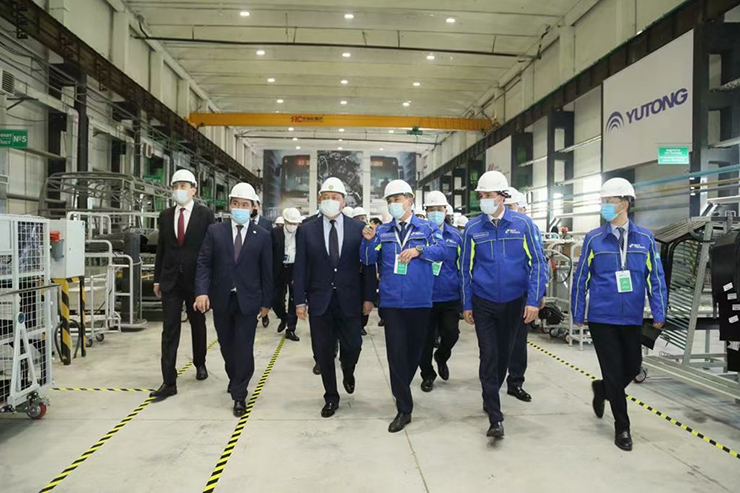 Prime Minister of Kazakhstan, MAMIN visited CKD plant
After the ceremony, Prime Minister MAMIN and the government delegation came to the plant to visit workshops and inspection lines etc. Prime Minister MAMIN said: "The motor industry is one of the most important machinery manufacturing industries in Kazakhstan, and the new plant cooperated with Yutong Bus has become one of our key projects. Thanks Yutong for actively participating in the construction of the new factory and their technology exports. "Meanwhile, he pointed out that Yutong products have been favoring by local customers in Kazakhstan, and the QazTehna plant would also become a cooperation example of China-Kazakhstan production capacity.
CKD plant commences production; localized cooperation achieves mutual benefits and win-win
As known, QazTehna plant is located in Qaraghandy, Kazakhstan, covering an area of 12 hectares, which is used for bus assembly and production. After completion, the plant will produce about 1,200 buses and 500 construction machineries annually, and will also become the largest bus manufacturing plant with most advanced technology in Kazakhstan. The plant can complete a full set of working procedures independently, such as welding, painting, final assembly and testing; it can also realize the assembly and production of buses, mining vehicles and sanitary vehicles, which is "equivalent to a complete production line."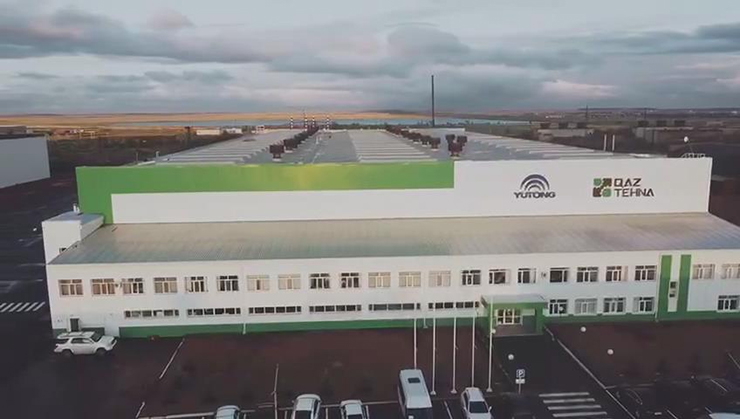 QazTehna Plant Cooperated between Kazakhstan and Yutong
In addition, by means of localized cooperation of QazTehna plant, Yutong Bus can not only create new jobs for Kazakhstan, but also provide an excellent platform for exports of advanced products, technology and production management experience, thereby improving local bus manufacturing level and helping local economy development.
Meanwhile, production starting of the plant has a positive effect on Yutong's further intensive and meticulous efforts in Kazakhstan market, also is helpful for the plan and expanding of the entire CIS markets by using the plant as a fulcrum.
From Product to technology exports, Yutong enters into a new stage for intensive and meticulous efforts in Kazakhstan market
Miao Yuan, Account Manager of Kazakhstan, Yutong Overseas Marketing System, mentioned: Yutong has entered into Kazakhstan market for more than 15 years; the number of Yutong large and medium buses in Kazakhstan was 3388, which was the largest among Chinese brands there and also accounted for over 80% of those segments exported to Kazakhstan from China in the same period. In 2020, Yutong Bus continued to deepen its efforts in Kazakhstan market, exported 100 E12 electric buses and 760 NG buses successively, and won the largest single batch of electric bus orders from Kazakhstan and Central Asian countries.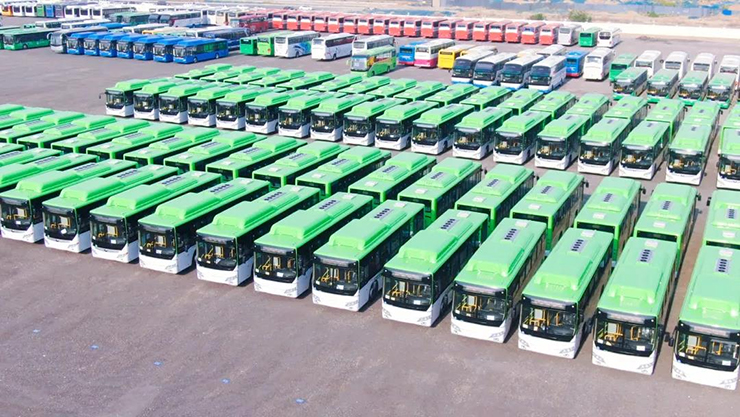 760 NG Buses Exported to Kazakhstan
Nowadays, the cooperated plant commences production under local government support, which means that Yutong has realized the transformation from product to technology exports in Kazakhstan.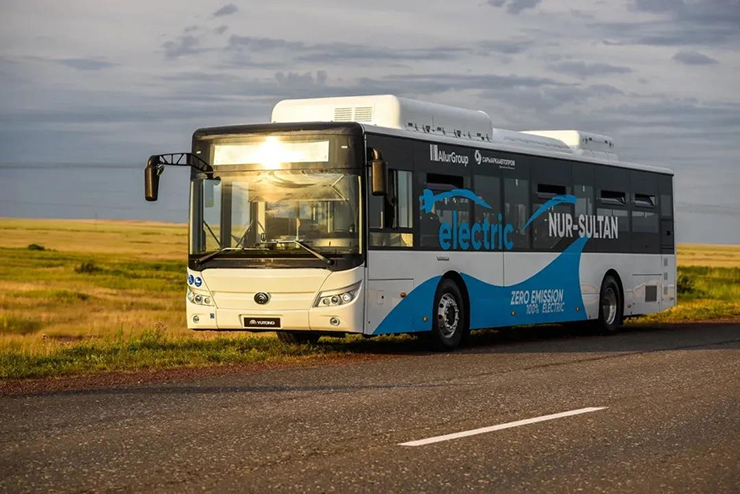 E12 Electric Bus Exported to Kazakhstan
8 service stations, 1 warehouse of parts and the network of transportation services and training in major cities of Kazakhstan established by Yutong Bus, were important guarantees for stable operation of the cooperated plant and marketing systems, which also provided 5000 more jobs for related industries.
Miao Yuan believed: as for Yutong Bus, the building of the QazTehna plant was not only product exports, but also exports of technology and standards, which was also an important milestone for China's high-end equipment manufacturing industry to go global.
Moreover, relying on the innovative business model of "technology exports and brand authorization", Yutong Bus has realized localized cooperation in more than ten countries and regions and has transformed from product exports to technology and overall solution exports successfully.
Create Yutong Model for Chinese bus "going out" through intensive and meticulous efforts
Since the "Belt and Road" initiative was put forward, China has deeply promoted cooperation with countries and regions involved; more and more national enterprises have accelerated their "going out" pace and actively participated in international competition. Yutong Bus, which has taken root overseas for a long time, has achieved "exploration and expansion" in the global market through a long term of accumulation.
As mentioned, all Yutong buses exported to Kazakhstan have been "tailored" according to local climate characteristics, operating environment and passenger travel habits. The highly customized products have demonstrated the strong strength of Yutong Bus, which not only continuously improved the public transportation conditions in Kazakhstan, but also reduced local air pollution and contributed to the improvement of the country's urban environment and national image relying on zero-emission and high-quality travel service experience.
Expand one, put intensive efforts on it and maintain it. In the process of "going out" and participating in international competition, Yutong Bus has always insisted on a long-term layout and gone ahead steadily and surely.
At present, the sales and service network of Yutong has covered six regions including Europe, America, Asia Pacific, CIS, Middle East and Africa; Yutong products have been sold in batches to more than 40 countries and regions around the world. Stable and reliable product quality and outstanding performance have enabled Yutong Bus to step into "fast lane" of brand development, to expand its market footprint rapidly, and to become a moving "Chinese mark" in Central Asian countries.
At the same time, when COVID-19 pandemic was ravaged all over the world, Yutong Bus kept contributing "Chinese Power" to Kazakhstan's local medical and pandemic prevention. In particular, the successful delivery of 100 Yutong mobile medical vehicles with five major functions- knowledge popularization, health education, two screenings, chronic disease intervention and emergency rescue, effectively assisted Kazakhstan in fighting against the pandemic and solved the difficulty of getting medical services for people in remote areas of the country.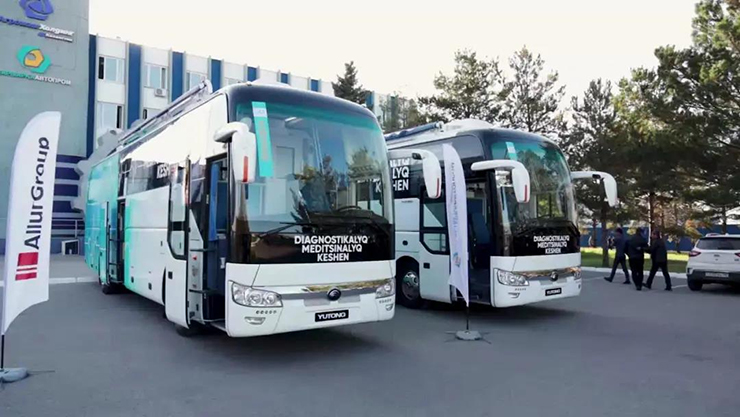 100 Yutong Medical Testing Vehicles Assisted Kazakhstan to Fight against the Pandemic
It is foreseeable that Yutong Bus, which insists on customer-orientation and takes root in oversea markets by high-quality products and services, will surely provide the people of Kazakhstan with more convenient transportation services, will boost the development of local public transportation, will promote local employment and improve the economy level via continuous products, technologies and service solutions exports to demonstrate the powerful strength of "Made in China".