500 Yutong buses shipped to Myanmar
2017-06-19
On June 10, a batch of 500 units Yutong 10-meter city buses were shipped from Lianyungang port, east China's Jiangsu Province, heading for the country along the Belt & Road Initiative – Myanmar. In early July, these bright yellow NG city buses with "China Yutong" letters on their bodies are expected to appear on the roads and streets of Yangon, capital city of Myanmar, and put into operation to serve the public transport in the city.
The climate in Myanmar features high humidity and high temperature throughout the year. In order to meet the vehicle operating needs under all-weather conditions, Yutong has purposefully conducted the development and engineering. The cooling effect and stability of air conditioner are enhanced. In view of the relatively poor road conditions in Myanmar and the less concern on vehicle maintenance, Yutong also adjusted the chassis and suspension accordingly.
Since Myanmar used to import the second-hand vehicles from Japan and Korea, both the LHD and RHD vehicles can be seen on the road. Yutong specially sent a technical team to conduct the field investigation, and figured out that LHD vehicles are more suitable for the local road conditions. Therefore, the company carried out the engineering accordingly and proposed relevant suggestions to the local government. "Now Yutong's market share has been ranking the first in Myanmar for several years in a row, and Yutong brand has almost become the synonym of 'Made in China'. Whenever Yutong is mentioned, many drivers will give it a thump-up praise", said Chang Hao, Vice GM of Yutong International Business Dept.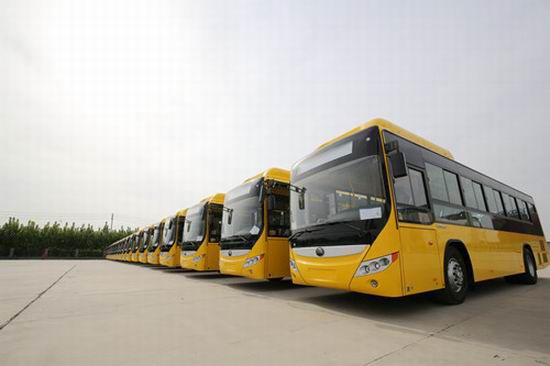 The agreement signed in April this year has showcased not only Yutong's strong presence in the Myanmar market, but also the deepened cooperation between China and Myanmar. However, this is merely part of Yutong's efforts to respond the Belt & Road Initiative. It is learned, under the guidance of "Cooperation and win-win outcome", Yutong has achieved the full coverage of the countries and regions along the Belt & Road Initiative. In addition, Yutong's overseas footprints have covered the major markets in the six continents and its total export volume reached over 50,000 units.